Object Details
Description (Brief)

One (1) Inari sen coin
Japan, n.d.
Obverse Image: Two fox demons to the left and right with three Hoshu above and the mystic key below; all inscribed with enamel backing.
Obverse Text: N/A
Reverse Image: N/A
Reverse Text: N/A

Location

Currently not on view
See more items in

Work and Industry: National Numismatic Collection
East Asian Coins
Date made

n.d.
ID Number

NU.66.14084

catalog number

66.14084

accession number

268682
Credit Line

Sebald, William J.
place made

Japan
Physical Description

copper (overall material)

Measurements

overall: 1.5 mm x 23.5 mm; 1/16 in x 15/16 in
Data Source

National Museum of American History
Object Name

coin
Record ID

nmah_1850922
Usage

CC0
There are restrictions for re-using this 3D model. For more information and to review the 3D disclaimer, visit the Smithsonian's
Terms of Use
page.Restrictions: These files consist of 3D scans of historical objects in the collections of the Smithsonian and may be downloaded by you only for non-commercial, educational, and personal use.
These files consist of 3D scans of historical objects in the collections of the Smithsonian and may be downloaded by you only for non-commercial, educational, and personal uses subject to this disclaimer (http://www.javakicks.com/disclaimer) and in accordance with the Terms of Use (http://www.javakicks.com/termsofuse).
International media Interoperability Framework
IIIF provides researchers rich metadata and media viewing options for comparison of works across cultural heritage collections. Visit the IIIF page to learn more.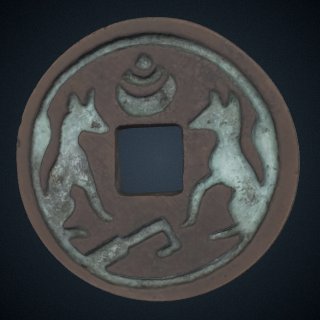 3D Model